Caspian specialise in Automated Anti-Money Laundering (AML) investigation technology and were the first businesses to move into The Core.  Right in the heart of Newcastle Helix they are building a safer future for financial services with a platform that harnesses human intelligence with AI and Machine Learning to help fight financial crime. They are set to accelerate their operations rapidly after Nasdaq Ventures invested in the award-winning firm.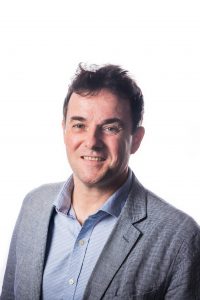 Kelly Gleadow, Senior PR and Communications Manager talks to Chris Brannigan, Chief Executive of Caspian about the world-first technology, how they are supporting the global fight against financial crime, what new investment means for scaling their operations, the benefits of being based in the north east and the career opportunities available for our talented developers and data scientists.
Tell us more about Caspian and what you do?
We help global banks to automate the process of high-volume AML investigations. Our technology works side by side with their human investigation teams to help them fight the serious problem of financial crime and money laundering.
As you would imagine the business of financial crime is high on the priorities of banks given that it is estimated to be worth US$5.8 trillion annually, of which $4.4 trillion is available for laundering (UN Office on Drugs and Crime).
KPMG estimate that the average bank spends around $48m per year to manage AML with some spending up to $500m. In the US banks spent $25bn on AML compliance alone according to Lexis Nexis Risk Solutions (Oct 18).
A big part of this investment goes on employing and developing well qualified human analysts to investigate the millions of financial transactions that are alerted as suspicious for potential evidence of money laundering. This is a vital process in protecting our economic system and eliminating large-scale criminality such as terrorist financing, corruption or the trafficking of arms, drugs and humans.
Our unique technology solution automates and augments the complex cognitive process that humans undertake to investigate those suspicious alerts. By handling greater volumes of alerts and making more accurate and consistent risk decisions, it saves cost for banks and enables them to focus their best human investigators on examining the most complex cases of financial crime.
Why did Nasdaq Ventures partner with Caspian?
Nasdaq is a familiar name to many of us and their technology serves the capital markets and many other industries around the world with a diverse offering of data, analytics, software and services.
Nasdaq Ventures was launched as Nasdaq's venture investment arm in 2017 and is dedicated to discovering, investing in, and collaborating on new technologies that align with their own vision of spurring innovation and technology transformation.
When the investment was announced, Gary Offner (Head of Nasdaq Ventures) said: "Investing in technology disruptors like Caspian that align with our business interests in improving the transparency of markets everywhere is one of the core objectives for our venture efforts".
What does the investment from Nasdaq Ventures mean to your business?
Nasdaq's leading position in financial crime will help us to go-to-market faster, with their expertise supporting an acceleration in our product development and growth on a global basis into the customers we serve.
The investment will also result in new jobs for the North East of England and the Caspian office will remain in the region. There are six new jobs live now and we're likely to recruit up to 15 new roles in total before the end of 2020.
 What does this investment mean to the region?
This is great news for the North East technology landscape where we're proud to have developed market leading automation technology. It is a positive example of investment in the region being attracted on a global level and what can be achieved with the right mix of talent and support within the technology community.
Organisations like Dynamo North East and Invest Newcastle are helping to grow the awareness of our region as a major technology hub. The Nasdaq investment brings the extensive scale and reach of another global corporation to the North East technology sector and that should only be a positive thing for our thriving community.
Caspian are based on Newcastle Helix in the Core, how does your business benefit from its eco-system?
Being based at Helix, and particularly at the Core means we are surrounded by similarly minded technology companies and a community focused on the sciences. It is encouraging to know that Caspian is part of that growing community where we can share our own expertise and experiences in Data Science with other businesses. The facilities and support available from both The Core and the wider Helix site have been beneficial in the day to day running of Caspian as well as building our visibility in the North East.
Newcastle has one of the fastest growing tech sectors outside of London. You describe our city as one of the best cities in the UK. Why is that?
Newcastle upon Tyne offers a great lifestyle for anyone working or living in the area – a vibrant city centre, a thriving culture and arts scene, brilliant food and drink (to go with the famous social life) and affordable living costs. Beyond the city, we are fortunate to be surrounded by award winning beaches, national parks and world-famous landmarks.
The Core is based within 5 mins walk of the East Coast mainline so we can be in London in less than 3 hours and access key European cities via the international airport. A few of our team have chosen to relocate to the North East for many of these reasons and to be part of our growing technology sector.
 Tell us why you chose Newcastle, rather than London as a base to locate and grow your business?
Caspian was founded and continues to grow in Newcastle. At no point has there been a need to base the business anywhere else in the country. We have been able to attract an international customer base and the recent investment from overseas without needing to consider being based anywhere else.
There is a good balance of regional talent, support organisations and the lifestyle mentioned above that provide the component parts for a scaling technology business. It is fair to say that there is still occasional surprise at where we are based – but there is a growing awareness of the North East as a serious technology hub. It is definitely a positive differentiator!
 This investment will allow you to expand your operations on a global scale. Tell us more about career opportunities for our regions data scientists and developers who want to help solve important problems.
As mentioned earlier, the investment from Nasdaq Ventures will support accelerated growth in our product and platform as well as support global customer growth. We are developing technology that is genuinely a world first and at the leading edge of what is possible with AI. Talented developers and data scientists are two disciplines that underpin that capability and we are actively recruiting across both of those teams.
We are also investing heavily in research-based relationships within the North East and have recently announced a Knowledge Transfer Partnership (KTP) and fully funded PHD studentship with Durham University as well as welcoming several interns and placement students.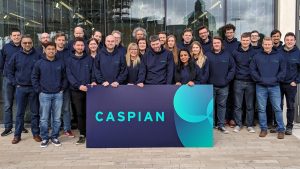 Aside from talent, we also look to work with people that want to make a difference. Technology has a significant role to play in fighting financial crime and the potential to be part of that is a very different and stimulating opportunity. The Caspian team, based at The Core, Newcastle Helix, is currently 35 strong and we will continue to collaborate across the whole team with a safe mix of remote working and office-based days.
Those interested in opportunities or finding out more about Caspian can visit Caspian.co.uk/careers and follow us on LinkedIn and Twitter @Caspian_UK