Locate here.
Are you looking to relocate your business or open a new office? Our dedicated team can help with office solutions, recruitment, skills, training advice and will embed you into Newcastle's thriving business community.
Grow here
At the heart of England's fastest growing tech cluster, a dedicated UK Science City and with a wide range of financing options, Newcastle provides a perfect environment for your business to flourish.
Invest here
A £92m investment programme into the Newcastle and Gateshead's 80 hectares Accelerated Development Zone is stimulating business and job growth. With increasing demand in the city there is a world of opportunity.
How we can help
It's not just the location and the people that make Newcastle such a great place to invest, it's the help you'll receive too. Whether you're looking for office space, need the inside track on what's happening in the region, or want to know how to tap into the best talent, we're here to help.
Meet the team
Invest Newcastle helps businesses to locate, expand and flourish here in Newcastle. We provide a range of support services for existing businesses and potential investors, making it easy to realise your ambitions for growth. Test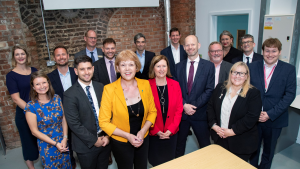 Minister of State for Transport, Wendy Morton MP, visited Newcastle yesterday (25 July) as...